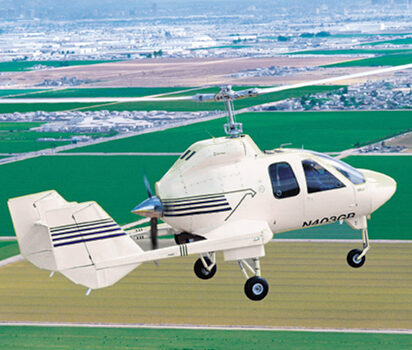 Skyworks Global Inc. and UTVA, a subsidiary of Serbian-Government owned Yugoimport, announced a strategic partnership to manufacture Skyworks' 5 seat runway independent gyroplane.
The Hawk 5 gyroplane combines the safety, reliability and cost effectiveness of fixed wing aircraft with the runway independence of a helicopter. Its simple, elegant design reduces much of the complexity associated with rotary wing aircraft, resulting in lower operating costs and higher reliability and making the Hawk 5 particularly well suited to serve delivery, transportation and patrol needs in a wide range of environments including the rugged conditions seen in developing countries.
The Hawk 5 will be built at UTVA's 925,000 sq. ft. facility at Pancevo Center in Serbia, which has a rich tradition of aircraft manufacturing. Offering highly sophisticated production and system capabilities from a trained labor force of qualified aerospace professionals operating within an economically competitive region, UTVA's 80+ years of demonstrated manufacturing excellence well-positions both companies to capitalize on and meet the demand for safe, low-cost runway independent aircraft. In addition to manufacturing its own aircraft, UTVA has achieved ISO 9001 quality assurance certification and has been certified by Boeing since 1990 as an airframe parts and assemblies manufacturer. As a Boeing certified supplier, the center has produced machined and sheet metal aircraft parts, tools and assemblies, including slats, wing tips and floor supports, for Boeing 737, 747 and 757 aircraft.
Read more at Airframer.
Skyworks announces partnership with European aircraft manufacturer to produce its runway independent Hawk 5 gyroplane